141 M€
turnover.

20% growth 2011-2016
840
staff employed by the group in France and abroad.

40 Countries covered by our commercial subsidiaries and local partners.
4.5 million products are manufactured in France every year.
10,000 commercial and industrial sites use Delta Dore BMS systems and energy efficiency services to optimise their energy consumption.
3 million homes are fitted with Delta Dore smart home solutions.
Our expertise, products and services
FOR THE HOME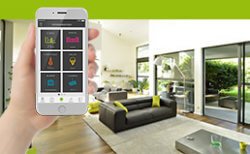 TYDOM home automation solutions are simple, available and scalable, offering easy control for the home.
High end home automation solutions LIFEDOMUS, specialised in Home Cinema and Multimedia control.
FOR COMMERCIAL AND INDUSTRIAL BUILDINGS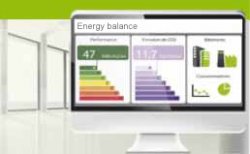 DELTA DORE provides advice and support to customers, from audits to continuous improvement of their energy efficiency: design and integration of multi-protocol BMSs, energy efficiency services with a guaranteed outcome, and multi-site energy management platforms.
FOR MANUFACTURERS
DELTA DORE offers manufacturers of boilers, radiators, air conditioning equipment, roller shutters and energy meters the benefits of its experience and expertise. We develop and manufacture electronic and radio-frequency solutions for them, enabling them to enhance their products and services.
Our values, and what sets us apart
Our interfaces are simple and intuitive, ensuring they are easy to understand and use.
A sales team and technical assistance team in the UK. Tailored training services available to professionals.
150 staff and 10% of turnover dedicated to innovation in design, products and digital technology, which is a key feature of buildings today. The offers have won many trophies.
Solutions entirely designed and manufactured in Europe and valued by our customers for 45 years.
Our commitments
An eco-friendly and socially responsible group

ISO certifications
Eco-design
Fight against hazardous products
Environmental organizations
Trainings

Training plays a key-role to help installers develop skills and allow them to bring innovative solutions to customers.