TIPS
Published on 09/05/2022
Micromodules, for a smart home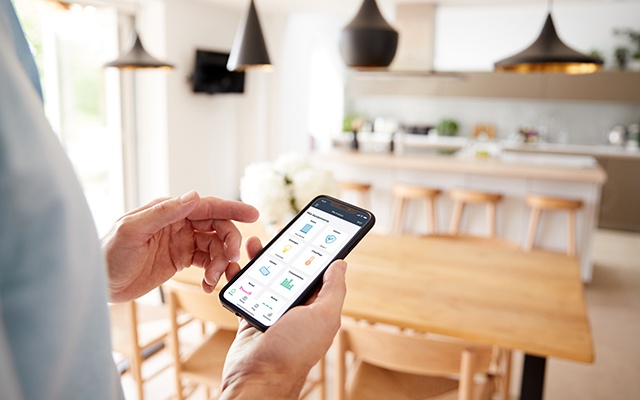 The ability to control your roller shutters, lights and much more, easily and wherever you are, with invisible home installation - this is what micromodules make possible. Let us tell you more!
What is a micromodule ?
Micromodules, as their name suggests, are very small. With a thickness of just 15 mm, the micromodule is the most compact smart home control system on the market. It is fitted behind the switches and is compatible with the majority of flush-mounted enclosures.
What are micromodules used for ?
The micromodules developed by Delta Dore enable the control of lighting (with TYXIA 5610 or TYXIA 5640) and motorised openings (with TYXIA 5630) such as roller shutters, blinds etc. They can also enable the control of garage doors (with TYXIA 4620) or even the management of your hot water (with TYXIA 4600).
Explore our packs and productsExplore our packs and products
This little transmitter or receiver housing enables :
the addition of a new switch to a device
the creation of a centralised control system for multiple devices,
the management of smart homes, for example with the opening detector to switch on the light, the smoke detector to open the shutters, or even the water leakage detector to close a valve,
the programming of scenarios depending on your lifestyle: Monday, 7 am, your alarm clock rings and your lights switch on gently, your shutters will open at sunrise.
or even remote control via a smart home hub and its application, or via voice assistants (Google Home and Alexa).
Programming by means of simple pairing between the micromodule and a Tydom smart home hub enables simple and intuitive use.
Request a quotation from a qualified installerRequest a quotation from a qualified installer
Express yourself !
The compatibility of TYDOM HOME with the Amazon Alexa and Google Assistant voice assistants offers even more simplicity. Control your roller shutters or lighting, or trigger programmed scenarios using only your voice!
Why install Delta Dore micromodules ?
Delta Dore wireless technology is the ideal solution with which to get more out of your smart home. They are small and can be quickly installed, without drilling holes in the walls.
You thus enjoy:
enhanced comfort: your child likes to fall asleep in a dimly lit room? Adjust the lighting in their room accordingly,
energy savings: you forgot to switch off the living room light and aren't at home? Switch it off remotely thanks to the Tydom app!
and increased security: when you are out, you can open and close your shutters to make it look like you are at home. A good way to dissuade burglars!
Do you want to efficiently manage your lighting and opening using micromodules? Call a Delta Dore Qualified Installer out to your home: installation by a professional, for professional quality.
Request a quotation from a qualified installerRequest a quotation from a qualified installer
Is your life evolving ? Your home is too ! 
Thanks to their wireless technology, you can easily expand your installation in line with your preferences and requirements. Transforming your office into a bedroom? Easy! You can easily add a control point by your bed, without launching into heavy or cumbersome work.
And their consumption ?
Micromodules are energy-efficient; they consume very little energy. In fact, the modules are on stand-by whenever they are not receiving orders. They thus emit point-source emissions ranging from 1 to 5 mW, compared to the continuous waves from 600 to 2,000 mW emitted by a mobile phone! Finally, the batteries of the transmitters have a life that can be as long as 10 years - which makes two undeniable financial and environmental assets!