TIPS
Published on 06/04/2020
4 good reasons to transform your garage door into a connected garage door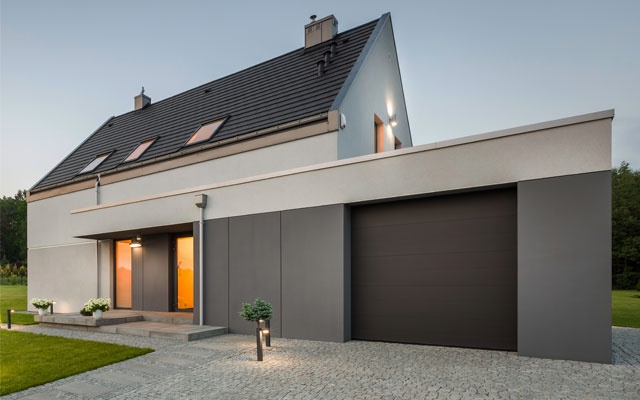 Does your house or apartment include a garage? Discover 4 good reasons to make your garage door connected.
What is a connected garage door?
A connected garage door is a garage door equipped with a motor. The connected motor becomes controllable, either locally from a switch or from a remote control and remotely from a home automation application on a smartphone.
Delta Dore has partnered with 2 brands recognized for the quality of their motorized garage doors: Hormann and Novoferm.
Using equipment available in their product catalogue, the X3D radio receiver module, their garage doors can be connected to the Tydom App.
Let's discover together 4 good reasons to switch from a simple garage door to a connected garage door :
1- A comfortable opening
Once the garage door is connected, all you have to do is connect a remote control to it to open it directly from your car.
Not having to open the garage door manually is appreciated in good weather, but brings real comfort when it's raining. One press on your remote control and your garage opens to let your car in. This is also possible directly from your smartphone, but only if you do so safely when your car is stopped.
If you arrive with your arms loaded e.g. with the groceries, the simplicity of opening the garage with your remote control means you don't have to take out your keys.
The return from the shops is much more pleasant!
2- Be reassured by the status feedback function on your smartphone
From your smart home application, check whether your garage door is open or closed from anywhere.
In addition, Delta Dore has created the wireless opening detector for you. It allows you to know the position of your garage door, but also to detect any forced entry attempt and alert your alarm control unit.
Your connected garage door reassures you and becomes an integral part of your alarm system.
3- Receive your parcels safely
You have just placed an order on the internet and it's going to be delivered on a business day? No problem, tell the delivery man to call you and then leave the parcel in your garage.
When you receive his call, open the garage door, let him drop off the package and close it once he's finished.
Your package will not be stolen or damaged by the weather. All thanks to your connected home!
4- Automate your connected home with programming and scenarios
Do you leave for work every morning at the same time? Create a programme and open the garage 2 minutes before you leave and close it 5 minutes afterwards so you don't even have to think about it in the morning.
Do you want to find your garage open and the lights on when you arrive for the winter evenings? Create a scenario entitled "Arrival by car" and, just by activating this scenario, discover the comfort of entering an open and lit garage.
The Delta Dore connected home offers you endless possibilities for automation.
Share them with us on our Facebook pageShare them with us on our Facebook page
How to install your connected garage door ?
2 possiblities:
The first where you already have a motorized garage door from one of our partners, you just have to contact your installer to ask him to install the X3D radio receiver module. Once installed and connected to your Tydom, you can discover your connected house and its new connected equipment.*
The second instance : you already have a motorized garage door, but it is not from one of our partners. Don't panic, you can also connect it using 2 products: 1 Tyxia 4620 micromodule which will allow you to control your garage door remotely, and 1 DOS Tyxal+ which will be used as an opening detector to know the opening status of your garage door. The association of these 2 elements allows you to connect any garage door. Take advantage of it!
*Contact us or your garage door installer to find out which door operator models are compatible.
If our range of nanomodules has tempted you, you should know that they can also connect your lights or your connected roller shutters.