TIPS
Published on 22/11/2019
Connect your alarm to your telephone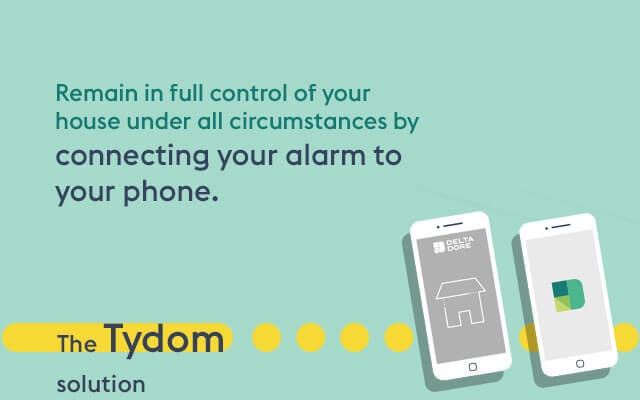 Remain in full control of your house under all circumstances by connecting your alarm to your phone.
When using a connected alarm, you will be warned in the event of a burglary or technical problem (fire, leak, power cut) in your house. To ensure your own safety and help you react promptly, a connected alarm sends alerts to your mobile phone.
When installing a reliable and high-performance connected alarm system, Delta Dore has listed 5 points that will make a real difference in terms of safety.
1/ Choose a professional alarm, installed without any major work required
Having an alarm installed by a professional means the set-up will be done according to good practices and rules. There are various alarm technologies (wired or wireless) available on the market. For a house or flat, wireless alarms mean no cables during installation and thus no need to damage your interior design.
2/ Consider choosing pet-friendly detectors
Motion detectors to be set up inside the house are one of the most sought-after features in our connected alarm packs. As pets are also very popular, and as half of the French population have said they own one, motion detector compatibility is therefore a key feature to be considered. Installing a connected alarm with pet-friendly detectors will avoid constantly triggering the alarm for no need.
3/ Video feed: an additional visual aid to identify intruders
Connected alarms will send you an alert, SMS or push notification if an anomaly is detected in your house. Go even further and receive a video feed of the intrusion. Choosing to install a video motion detector means being able to see your home and therefore the intruder. The infra-red technology embedded in this kind of detector will make it possible for you to be sent a video feed day or night.
4/ A connected alarm is great...but one that also works without any Internet connection is even better!
The advantage with connected alarms is that you can check your system is properly activated at any time, and that everything is fine at home. But what happens if there is a power cut or no wifi? Does your house remain under surveillance?  Alarm systems with integrated telephone transmitters mean the alarm can work autonomously. The system will continue sending you its alerts via SMS or phone.
5/ An alarm that protects you, even with the windows open 
There are many different kinds of detectors available on the market, but did you know about those capable of protecting your home even with the windows open? This kind of detector makes doorways and open spaces safe (garden shed, covered courtyard, etc.), or can make sure your paintings or other valuables remain secure. This is a great feature to be included in your overall protection system!
6/ An alarm system that keeps you informed 
When connected to your Tydom smart home hub, benefit from the following alerts:
Family Care is an integrated feature that allows you to track your family's whereabouts. Indeed, if you have configured your alarm correctly, if one of your relatives disables the alarm using his badge you are alerted.
The classic intrusion alert: it alerts you via a notification in case of intrusion. This alert allows you, if you are equipped with a video motion detector, to view the exact moment an intrusion is detected. 
Don't wait any longer to have your Delta Dore alarm installed. Contact one of our privileged installers >
Discover Delta Dore's connected alarm
Designed to be compatible with Delta Dore's home automation boxes, the Tyxal+ alarm sends alerts to your mobile phone so you can react before it is too late.
Delta Dore's connected alarm offers several different protection levels, to be selected according to your home and security requirements. Whether you choose a pack or separate items, your security can be specifically tailored to your habits. With its 10-year battery life, this alarm system is both safe and long-lasting.
Browse through our alarm products  >
Discover the benefits of our Tyxal+ video on YouTube >