TIPS
Published on 04/12/2019
Are you moving home? Try smart home!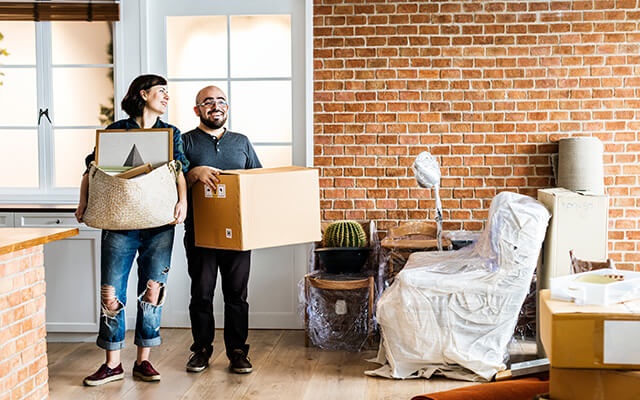 Before moving into your new home, why not turn it into a smart home? Delta Dore has many advantages to offer.
WHAT IS HOME AUTOMATION?
Home automation is a word that grants you access to boosted security in your home.
Home automation means adding connectivity to your home, which can then be managed and optimised remotely via your smartphone. Programme, control, manage and centralise your home from wherever you are in the world!
MOVING IS THE PERFECT TIME TO EQUIP YOUR HOUSE WITH SMART HOME SOLUTIONS
If you are moving to improve your living conditions, why not opt for a more radical solution? Discover the 5 reasons why you should make the most of it:
1- YOU WERE THINKING OF DOING SOME WORK
Before bringing in experts to work on your amenities, ask for advice from a home automation expert. Our NETWORK OF RECOMMENDED INSTALLERS will be delighted to help out. Furthermore, most of our solutions require no or very little work done.
Combining this installation with work by other professionals will enable you to optimise costs and thus save money. Financial aid also exists when adding home automation items to your house.
Once your house has been fitted with home automation solutions, you can enjoy all the comforts of a smart home.
2 - SAVING ON ENERGY EXPENSES
A connected home will also help you save on energy consumption and therefore on expenses. Be more penny-wise and help the planet at the same time.
You can optimise your heating expenses thanks to your programmable and connected thermostat. Your smart roller shutters will also add thermal insulation during summer heat waves and cold winter nights. Lastly, by equipping yourself with metering and energy management tools, you can analyse your expenses and adapt your habits accordingly.
3 - MOVING INTO A SAFE HOME
Make sure your move is stress-free by securing your investment. A protected home means constant tranquillity.
By installing a smart alarm, you can keep an eye on your most precious possessions in just a few seconds, wherever you are in the world.
A home protected by an alarm will dissuade burglars, and 95% of them will take flight as soon as an alarm siren goes off.
4 - GETTING USED TO YOUR SMART HOME
Get used to new habits as soon as you enter your new home. By learning to use them from the very beginning, you will see yourself enjoying your home automation equipment to the full in just a few days!
Set the programme that best suits your habits, create scenarios in your connected home app, and discover the infinite possibilities for improving your day-to-day life.
If you had your house built, the builder having installed your Delta Dore products can offer an appointment with a Delta Dore expert, to walk you through using your new solutions.
5 - INVESTING IN THE FUTURE
Your home should increase in value for its resale. By equipping it with home automation solutions, resale will be much easier and will no doubt create added value!
To get a better idea of our connected homes, discover our TYDOM SMART HOME MOBILE APP, compatible with VOICE CONTROL.
Here at Delta Dore, as French experts in connected homes since 1970, we offer SMART HOME SOLUTIONS perfectly adapted to your needs. Our network of passionate professionals, trained internally, will be there to support you every step of the way, so feel free to REQUEST A QUOTE.