TIPS
Published on 15/01/2020
2020 New Year resolution : saving my energy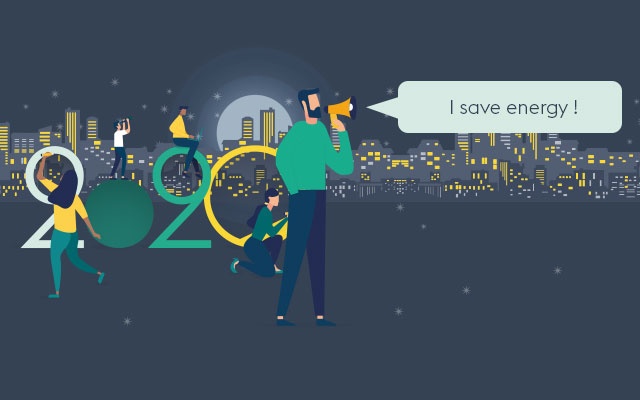 Begin a brand new decade and choose to make savings.
We all know new year resolutions can be tough to stick to, but Delta Dore will help you make this a resolution you can achieve. We have gathered a group of Smart Home Expert installers with a deep knowledge of our connected products.
Given the energy issues worldwide, our products help you manage your smart home and allow you to make savings.
Smart heating control
The first step to energy savings is optimising your heating. By installing a smart thermostat you control it from wherever you are, by using the Tydom smart home app.
3 Tips to Smarter Heating Control:
With a connected thermostat, you are in charge of your heating. Programme your heating within the recommended temperature levels, 19°C in the living room and 17°C in your bedroom.
Control your heating at home, outside or abroad, with an internet connection. When you remember at the airport hat you forgot to turn off your heating, open the smart home app and set your heating to Absence mode, or turn off the programme while you're on holiday and set it to come back on the day of your arrival. Optimize your heating with a smart thermostat.
Don't heat an empty house. Set your programme and have the heating come on in time for when you come home. Heat your home more efficiently by having a low temperature setting at night. It's more cost-effective to heat a home from 15°C than 10°C or lower.
Remember, our smart home app is compatible with Google Assistant and Alexa so you can control your heating with your voice.
Smart lighting control
Smart lighting will allow you to save on your electric bill, as well as help you turn off the lights when you're out.
Using our dimming receivers set the mood when you're at home for parties, movies and everything in between. Programme your lights to come on after sunset or at a designated time everyday.
If you're coming home late, turn your outside lights on from the smart home app, or tell your lights to turn on through voice control.
Smart blind control
Automatically open your blinds, allow sunlight in and reduce your energy by turning off the lights you don't need on. Use our Delta Dore venetian blind control and vary the tilt of your venetian blinds in a way that suits you.
Programme your blinds to close at sunset using the astronomic programming function. It adjusts the time your blinds close accounting for the change in season so they always close at sunset.
You can also control your blinds with Google Assistant by saying "Hey Google, raise the blinds"  (Venetian tilt control not possible).
The Delta Dore team is available to help you stick to your new year resolution and save money on your energy bills. Ask for a free smart home consultation !