TIPS
Published on 04/12/2019
Smart apartments: comfort and security in the heart of the city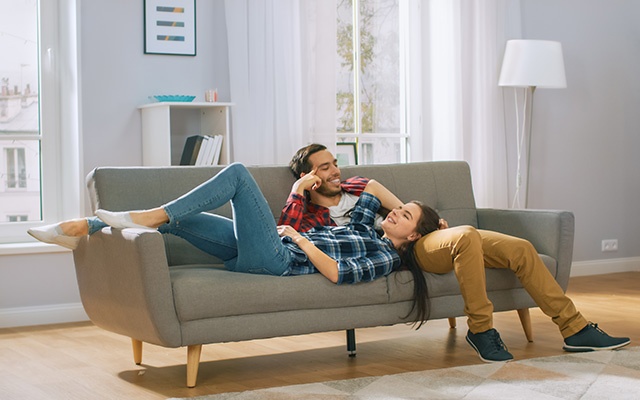 Do you live in an apartment, yet only ever hear about smart houses? Open up your apartment to home automation and discover how much easier your life can become.
What is a smart apartment?
A smart apartment is one fitted with smart home solutions controlled either locally or remotely. The system is controlled either using remote controls or via a mobile app downloaded onto your smartphone.
Why install smart home systems in your apartment?
Your apartment, whether part of a small or large building, in town or otherwise, can be fitted with smart home solutions, thus bringing you lots of different advantages: smart heating, smart alarm, smart roller shutters, smart lighting, energy savings and even voice control. These are but a few examples of possible connected solutions.  Let's run through them:
CONNECTING YOUR HEATER USING A SMART THERMOSTAT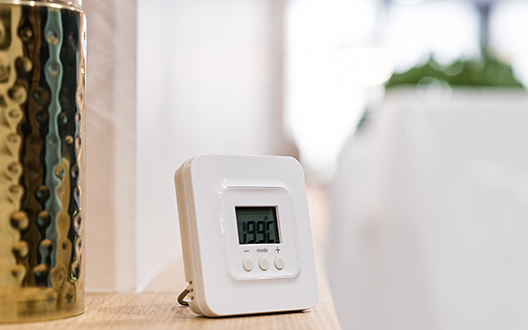 Your smart thermostat enables you to control and know precisely what the temperature is in each room, directly via your smartphone.
When using a smart thermostat and your smart home app, you can programme the heating settings in your home, making sure your apartment is always comfortable without consuming energy uselessly. Programmes are set according to your choices and needs so you can enjoy the perfect environment.
Did you forget to turn the heating off before going on holiday? No problem, switch it to the frost protection programme using your smart home application. To return in pleasant conditions, your heating can be relaunched during your trip back - just a few hours before arriving - so your heating does not remain switched on while you are away.
Getting a bit chilly while watching your movie? As our solutions are compatible with voice control, you can ask your voice assistant to boost the heating by one or two degrees without having to get up off the sofa.
PROTECT YOUR CITY APARTMENT THANKS TO A SMART ALARM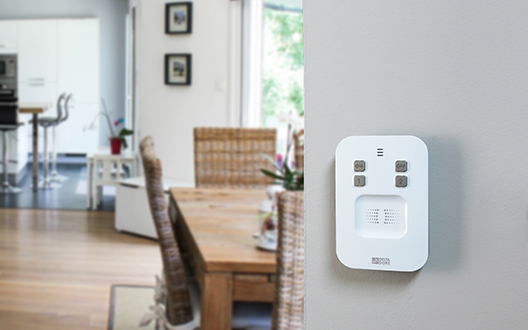 Protect your most precious possessions thanks to a Delta Dore smart alarm.
Our range of alarms was carefully selected and includes a wide array of intrusion detectors perfectly suited to your needs.
When associated with a central siren, your intrusion detectors will trigger the alarm and it will dissuade burglars from proceeding with their wrongdoings.
To be remotely alerted of any intrusion, we created our phone transmitter - which will either call or send you an SMS depending on the type of alert chosen.
At the entrance to your home, a badge reader can be used by your whole family to deactivate the alarm and avoid any untimely activations.
Lastly, by adding a connected camera or video motion detector, you can remotely see what is happening at home. Is there anything better than knowing you are safe in your own home?
SMART ROLLER SHUTTERS FOR PRESERVED INTIMACY, AMONGST OTHER THINGS...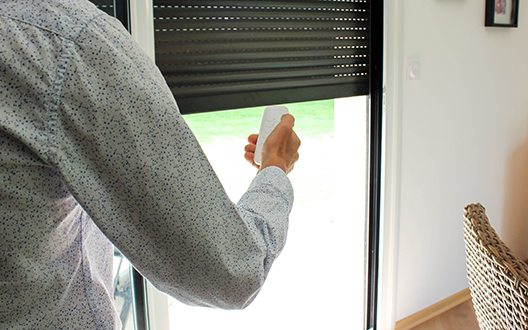 Having roller shutters is a comfortable amenity, and quite common in apartments. Smart roller shutters give you an even bigger bonus.
By programming your settings in your home automation app, you can trigger the opening of your shutters automatically. Your habits will dictate what your home does for you.
Roller shutters also provide additional insulation. By closing them when it gets cold outside, or during hot weather, you can preserve a pleasant temperature in your home without over-consuming.
Once associated to your alarm system, your smart roller shutters will serve as an additional detector. Indeed, with our smart roller shutter motor, any attempts to lift the shutter will be signalled to your alarm unit. To simulate your presence whenever you are away, you can programme your shutters open and close in the morning and evening.
Just woken up and want to open the shutter without getting out of bed? Ask your voice assistant to do it instead. Delta Dore's connected Tydom app is compatible with voice control, so make the most of it!
MATCH YOUR ATMOSPHERE WITH YOUR MOOD THANKS TO OUR SMART LIGHTING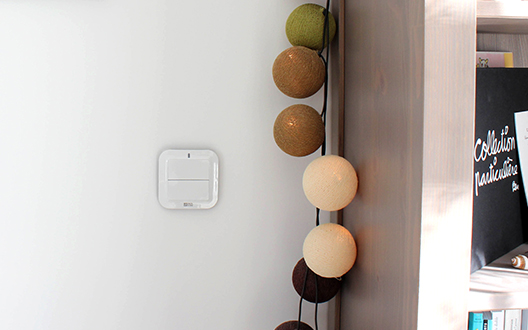 Including your lighting in your home automation system also enables you to save on energy consumption, as you can make sure which lights are switched off at any given time.
Just like for smart shutters, smart lighting allows you to simulate your presence at home, to dissuade any potential robberies.
Yet the main advantage of having smart lighting in your apartment lies in managing various light atmospheres at home. Using a smart light dimmer, you can adapt the lighting in your home at any given time. Furthermore, voice control can also be used to manage your smart lights and control them from the sofa.
CONCLUSION
Your smart apartment will help you save on energy, feel safe, and discover the comfort of smart home and voice control services. Most importantly, your home will adapt to your lifestyle and habits.
Feel free to tell us about your smart apartment project!