NEW
Published on 14/01/2019
New Tydom feature: Your favourite scenarios on your home page
If you use the Tydom smart home application, you might have noticed the new features added to the app's latest upgrade. 
From 14/01/2019 onwards, you can add scenarios directly to the application's home page. Making the control of your smart home easier.
Scenarios allow you to control several smart home devices at the same time.
Want all your lights to switch off and your heat to turn down when you leave home?
Want your heating to be set to 20 degrees and the lights in the hall to come on when you come home?
Set a 'departure' and 'arrival' scenario in your Tydom application. When the scenarios are added to your favourites, they will appear on the home page. 
With this new feature, customise your home page!
3 steps to add scenarios to your favorites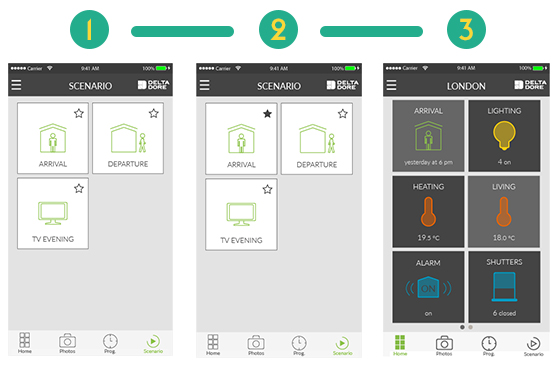 Step 1 : Open the scenario category on your app.
Step 2 : Click on the star on the top right hand side of the scenario.
Etape 3 : The scenario will automatically appear on the home page of the smart home app.
Find out about all the advantages of using the Tydom smart home application and enhance your smart home experience >