NEW
Published on 05/06/2017
Tydom, easier life with home automation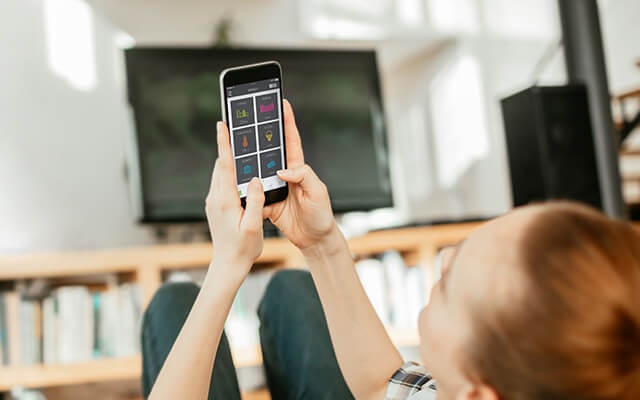 Find out about Tydom, the new generation home automation solution to control your home, your secondary residence or your office from home or remotely on smartphone or tablet.
TYDOM: MY HOME IS CONNECTED
What is a connected home? It's a home where equipment communicates: home automation with remote access to information. Tydom: make your life easier and comfier while securing your home and saving on energy bills, with full control from your smartphone or tablet.
 
3 TYDOM SOLUTIONS FROM £122 inc tax*
Choose the best Tydom for you. Without subscription, each Tydom solution has 1 box and 1 application to control it from anywhere using your connected devices.
Tydom 1.0: affordable home automation. Home automation is now accessible for you with our TYDOM 1.0 home automation box and free application. Control all Delta Dore home automation in your connected home with ease. Simple to use for the whole family, the Tydom application literally looks like your home: add interior photos and icons to control your connected devices and control them from wherever you are! View our Tydom 1.0 connected home automation solution >
Tydom 2.0: optimum security for your home Home automation box and alarm telephone transmitter, TYDOM 2.0 includes the features in the TYDOM 1.0 box and allows you to improve your level of security. You will receive alert sms messages on your smartphone and a video of any intruder detected in your home. TYDOM 2.0 and its application also allow you to remotely consult your Delta Dore video detector to check it if you receive an alert. You can also receive an sms when your child returns home. View our Tydom 2.0 alarm home automation solution >
Tydom 3.0: full home automation. With our TYDOM 3.0 home automation box and its free application you control every part of your home's multi-brand home automation and multimedia. 100% configurable, the application allows you to add photos and videos of your interior and directly touch equipment to control it.  With photorealism and videorealism, the insides of your home come to life. You can create an unlimited number of home controls and life scenarios. Television, Home Cinema, video doorkeeper, IP camera, alarm, heating, lighting... the application allows you to see and control your home, and receive alarm alerts wherever you are. View our Tydom 3.0 connected home automation solution >
 
INSTALL YOUR SOLUTION AT YOUR OWN PACE
All your devices, current and future, can be connected to Tydom without requiring works or re-decoration! Add new home automation features whenever you want: simply and quickly expand your home automation to fit your needs at an affordable price.
 
TYDOM SECURES YOUR PERSONAL DATA
With its HomeCloud solution, Tydom protects your privacy by storing your personal data at home: it is not accessible by third parties in the cloud.
 
*Public price - Not including installation costs - United Kingdom