NEW
Published on 04/10/2021
Everything is easier with a Delta Dore account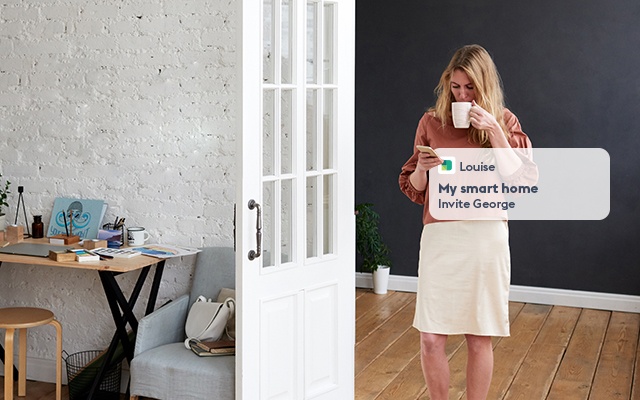 Set up your customer account to make everyday life easier. Just one account to manage your installations securely and with peace of mind.
Share your smart home with complete peace of mind

The Delta Dore account makes it easy! Create your account and give household members access to your smart home; you can even add guests while they're staying with you.

View and manage the list of people with access to your smart home.
Easy to connect

Got a new smartphone or tablet? With your Delta Dore account, connecting a new device to your Tydom gateway is child's play.
Smart support

With your Delta Dore account, you can send an invitation to your installer if necessary. They will be able to assist you remotely and access your installation from their app. Problem solved? You retain control to remove your installer's access.
Just one account for everything

No more need for multiple accounts to activate services on your app (voice assistants, Tycam smart cameras etc.). 

With the same account, you can easily connect to all your other sites (second homes, shops, offices etc.).

 
How does it work?

It's simple: when connecting to the Tydom app, select "I am an installer" and follow the instructions, entering the information requested (name etc.). Once you've created your account, you can now benefit from all these new features.
How to create an account?
- I already have a Tycam service account, consumption tracking and/or voice assistant: Use the identifier (e-mail) of this account and not the Tydom MAC address as before + my service account password.
- I don't have a service account (Tycam, consumption monitoring and/or voice assistant): Click on "create an account".
How do I install voice assistants from now on?
- From now on, the installation of voice assistants requires the creation of a new Delta Dore account once the application has been updated.
Find the new tutorials here for Google Assistant and Alexa. 
For more information, take a look at our FAQs
Keeping your data safe: our priority
We are responsible for all personal data you give us.We ensure that we comply with personal data regulations in order to protect and secure your data.
This information allows us to adjust and improve the products and services we offer.For more information, take a look at our privacy policy at https://www.deltadore.co.uk/personal-data