NEW
Published on 11/04/2018
Discover the Tybox Boiler+ and Tybox BUS OT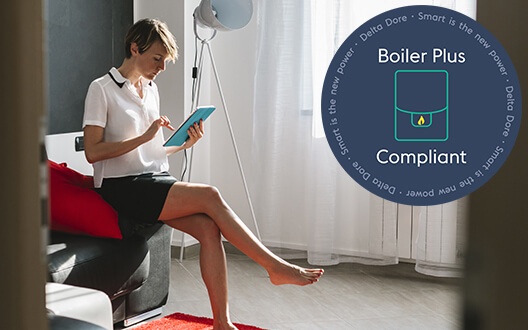 Boiler Plus is the name given to the changes in part L of the building regulations, which will come into effect on the 6th April 2018.
Introducing the Tybox B+
The main reason for these changes is to help us achieve our carbon emission targets in 2050.
It adds a level of complexity to an installation that we aim to help you overcome by using this document, and importantly help end users to avoid a fine of up to £5000 if a system is found to not be compliant.
At Delta Dore, we have a wide range of products that can give you complete smart control, but we are very aware that not all consumers want these solutions today (even though the reality is simple). We hope to assist you in educating your customers whist offering a solution that meets their needs today. A smart control can lead to a more efficient home (both through convenience & financial savings). With the Delta Dore range, you can install controls that end users have been familiar with for generations and easily upgrade the system when they feel comfortable to do so in the future as their requirements adapt and change. Whilst also being able to respond to those customers demanding a more innovative solution today.
What are the key changes?
Gas boiler performance: space heating efficiency of the new boiler no less than ErP 92%.
Controls minimum: time and temperature control required for all gas and oil boiler installations.
Combi boiler installations must also include one of the following:
• Weather compensation
• Load compensation
• Flue Gas Heat Recovery
• Smart control
What do I do?
Firstly, you must determine 'does boiler plus actually apply to my installation'. You may not need to fulfil all the changes if:
• Your installation is in Wales, Scotland or Northern Ireland
• You have already installed flue gas heat recovery
• The boiler you are installing is not a combi boiler (ie system boiler etc.)
• Your customer needs to replace their controls (without changing the boiler)
• Your customer wants to upgrade their old control to a smart control
(without changing the boiler)
If one of these points are true then use a:
• Tybox 23 (wireless room thermostat) *
• Tybox 33 (wireless room thermostat with timed setback)
• Tybox 137 (programmable room thermostat)
• Tybox 827 (complete time & temperature solution for system boiler)
• Tybox 5000 pack (for simple one zone smart control upgrade)
*must be installed with a time clock or programmer in England
If you are installing a new combi boiler in England then boiler plus does apply; consider the new Tybox BUS OT or Tybox B+.
It fulfils all control aspects of boiler plus and the 'load compensation' requirement of combi installations. If you have used our products before it still comes with all the great features seen in the Tybox range (and a 5 year warranty). For RF models, you will benefit from up to 300m range and a pre-associated/pre-cabled receiver.
We recommend this range if your customers are not yet ready for app control (but if they change their mind simply add a Tydom gateway and use in thermostat mode (Tybox B+ only).

Why not use boiler plus as the opportunity to finally move to a real smart offer (we promise it  is simple and we will help you to understand how). The Tybox 5XXX range + Tydom gives you unparalleled flexibility for single/multizone/mixed heat source systems, and importantly fulfils all control aspects of boiler plus and the 'smart control' requirement of combi installations.

So, whether it is an apartment, house or stately home the system is easy to install, easy to use and scalable over time.
Visit the website, www.deltadore.co.uk to see what else you can do with Tydom or connect with us on social media to keep up to date with all the installation videos, news, new products and developments.
If you have any other questions about boiler plus don't hesitate to contact your area representative or our technical hotline on 020 7660 2919. If you have tried our solutions and want to expand your smart home offer then please ask us about becoming a Delta Dore Privileged Installer.