NEW
Published on 04/10/2021
New smart programmable Tybox thermostat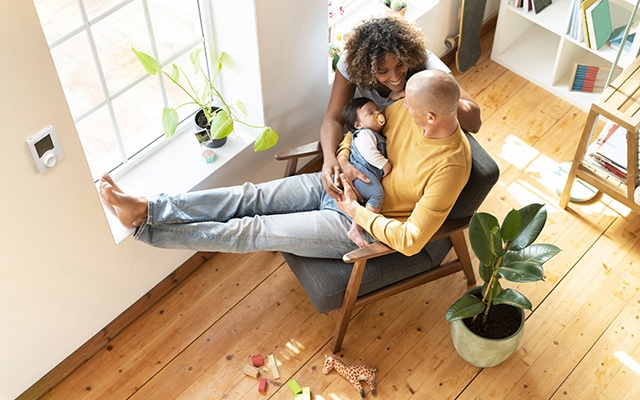 Fine-tuning your heating use means optimising your comfort while keeping on top of your energy consumption. 
With Tybox, you are choosing custom comfort by relying on the best technology. 
Tybox is smart 
Tybox 137+ is a new thermostat that enables you to programme your heating directly via the product or better yet, from your smartphone.
All you have to do is to link your Tybox 137+ thermostat with your Tydom smart home box.
Thanks to the free app, wherever you are and at any time, you can check the ambient temperature of your home, change it and schedule the times you will be there or will be absent.
Tybox is voice controlled 
You can also control your thermostat now using a voice assistant (Google Home or Amazon Alexa). 
Customisable programming 
With your Tybox's custom programming, your heating adapts to your lifestyle.
Let's take a typical day:
You get up at 6:45 a.m.
You leave for work at 8:30 a.m.
You come home at 5:30 p.m.
You go to bed at 11:00 p.m.
Based on when you are at home, the times you are away, and the times you are asleep, Tybox manages each timeslot according to the programme you have set.
You don't have to worry about it any more.
Built-in preset programmes 
Tybox is always finding new ways to improve your daily life!
It now has a library of 5 preset programmes, which you can use according to your needs and that you can alter so that they match your lifestyle exactly.
Programme 1

You're at home during the day.

You can enjoy a constant comfortable temperature and it automatically decreases when you go to bed.
Programme 2

You work every day of the week.

It's a pleasant temperature when you wake up, then the temperature drops a few degrees while you're at work. Without you having to do a thing, it will be pleasant again when you get back until you go to bed.

As for the weekend, the programme is based on programme 1, namely a pleasant temperature all day and a few degrees cooler during the night while you sleep.
Programme 3

You work every day of the week and you come home for lunch at noon.

The programming is identical to programme 2 except that the heating is reactivated during the period when you come home to eat.

You just have to get your food ready.
Programme 4

You work all week except Wednesday

This programme is the combination of two of the preceding programmes.

Programme 2 for Monday, Tuesday, Thursday and Friday
Programme 1 for Wednesday and the weekend
Programme 5

This is designed to set your heating to Eco mode 24 hours a day, perfect for an extended absence.
It is also very useful if you want to easily customise the programme that suits you best. To do this, rather than inputting timeslots for when you will be there and when you will be away, you just have to add the hours you want a comfortable temperature at home to an existing Eco programme.
The right temperature at the right moment 
Tybox knows how to anticipate your expectations in terms of comfort.
This means your Tybox calculates the necessary increase in temperature in your home based on external conditions.
After an adaptation period to adjust the energy needs connected to the building's inertia, the heating starts at the right time, without the risk of overconsumption.
 
And you save on energy 
Tybox enables you to thermally optimise your home 24/7, using simple, effective management to get the ideal temperature.
And because you are controlling your heating, you avoid excessive consumption, which is good news for your energy bill.
Air your rooms without heating the streets! 

Link your Tybox to a door/window motion sensor.

Open a window and the heating switches automatically to frost protection mode until the window is closed again.
An unforeseen event? You're going on holiday?  

You can quickly change the heating mode to deal with unforeseen events or when going on holiday as a result of the integrated calendar. 
Tybox, a little box full of resources 
Your Tybox has a QR code on it.
Scan it and get access to all the information you might need in detail along with user information for your Tybox (manuals, documentation, etc.)
Wired or wireless Tybox 
Tybox has a whole range for new or existing accommodation. 
To find out more, a professional installer, who is an expert in Delta Dore solutions, can help you with your project.  
 
Ask for a home consultation today !Ask for a home consultation today !
Smart Homes by Delta Dore 
Tybox 137+ is the new smart programmable thermostat.
Other streamlined and progressive solutions exist to improve your everyday life and make things easier.
A smart home means that the alarms, lighting and door and window security are all linked too... 
Tybox: 40 years of Delta Dore innovations providing your comfort and saving you energy