NEW
Published on 26/01/2021
Heating : when connected thermostat becomes design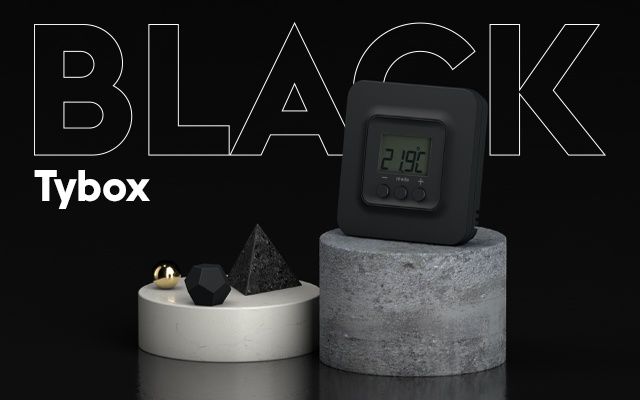 Heating management is much more than just a matter of setting the temperature. It now blends into your home design with distinction.
Thanks to our expertise in the world of connected heating, our ranges of thermostats now equip more than 14 million homes.
To complete the range, the latest of our room thermostats has a new, sober and elegant front color. With its matt finish, Black Tybox 5101 will blend in with your interior in style. 
Black Tybox 5101 is a temperature sensor to be coupled with a receiver suitable for electric or hot water heating. Its digital display allows you to easily adjust the room temperature to suit your lifestyle. Thanks to its wireless technology, Tybox can be installed without any work or decoration to be redone.
Associated with Tydom 1.0 connected home box, your thermostat becomes connected. This way, the heating can be controlled remotely (programming, temperature setting, feedback, etc.) via your smartphone. Convenient to find your cosy nest at the right temperature when you return from your holidays!
For an even more intuitive and fun experience, the heating can also be controlled by voice by combining Tydom 1.0 box with Amazon Alexa or Google Assistant voice assistants.
Once equipped with Tydom, upgrade your installation with other types of equipment (shutters, lighting, alarm, etc.). In this way, you will be able to control your home with a single Tydom app, in an eco-responsible way by controlling your energy consumption. 
You will have well understood, elegant, practical and economical, Black Tybox becomes a new basic. 
Switch to connected heating ! An installer, expert in Delta Dore solutions, can help you with your project.
Contact us for more information !Contact us for more information !