NEW
Published on 08/12/2020
! NEW ! Connected blinds and shutters can also be controlled with Amazon Alexa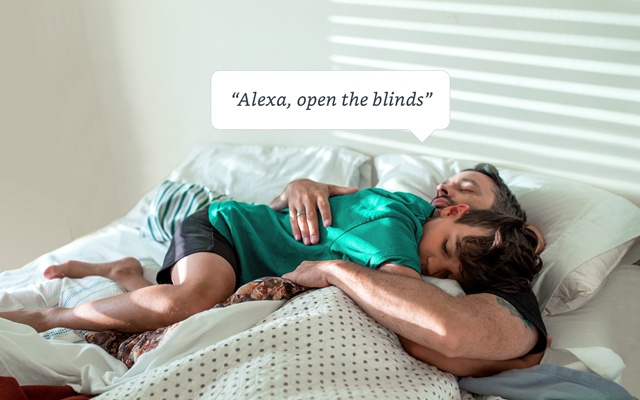 "Alexa, open the blinds"
After lighting and heating, you can now control your blinds or shutters, connected to our home automation boxes, with Amazon Alexa voice assistant.
The remote control of your blinds and shutters via Tydom connected home app has changed your life ? Voice control will improve your connected home experience !
With Amazon Alexa, you can control the total or partial raising or lowering of your blinds without moving or looking for your smartphone. Convenient when you have your hands full!
How does it work ?
If you already use Amazon Alexa voice assistant, say "Alexa, discover my devices" to detect your connected blinds.
If not, install Amazon Alexa app on your smartphone and then associate it with your Tydom installation. Then discover the devices you want to control by voice.
Our video Delta Dore and Amazon Alexa guides you step by step :
Discover how to associate Amazon Alexa with Tydom
Once the association and discovery are complete, you have only to rename your devices and parts into Amazon Alexa app as to control your blinds by voice.
And to make sure this feature works properly, consult our best practices guide :
Voice control of blinds with Amazon AlexaVoice control of blinds with Amazon Alexa
Now you are ready to test a new connected home experience ! Voice control also applies to other uses you can experience with Amazon Alexa.