NEW
Published on 14/12/2021
SMART HOME: 5 TIPS FOR THE FESTIVE SEASON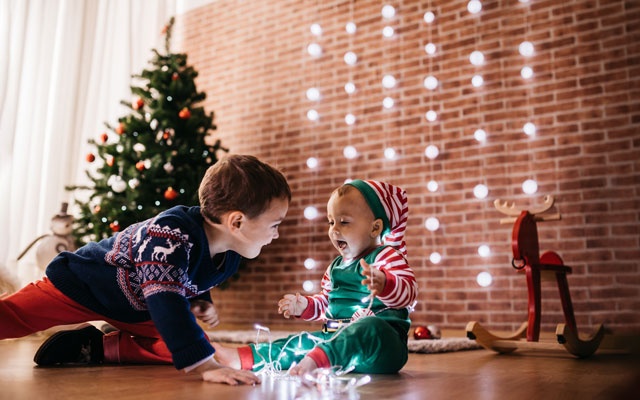 Check out our 5 tips for a beautiful (and bright) festive season! 
TIP #1: SMARTEN UP YOUR CHRISTMAS DECORATIONS... AND THE WAY YOU LIGHT THEM!
Tired of (dis)connecting your Christmas lights every evening Make your lighting smart! Combined with a smart switch, your lights will take on new functionalities, such as remote control or the programming of scenarios! In the majority of cases, there is no major work required to transform already existing lighting into smart lighting. There are several options available depending on your needs and the equipment present in your home.
To make your Christmas tree really sparkle, simply transform your light garlands into smart lights by connecting them to a TYXIA 6610 switch.
TIP #2: RAISE YOUR VOICE... AND SIMPLFY YOUR EVERYDAY TASKS
"OK Google, switch on the Christmas decorations!"... for an instantly festive atmosphere! Switch on your Christmas garlands by voice command, and why not start a themed music playlist from a streaming platform?! Voice control is available as a means by which to control Delta Dore lighting equipment. All you need is a Tydom smart home hub, and to pair your equipment with the Amazon Alexa or Google Assistant voice assistants.
CHECK OUT OUR TIPS IN ORDER TO CONNECT TYDOM TO VOICE ASSISTANTS
TIP #3: KEEP AN EYE OUT FOR FATHER CHRISTMAS... AND KEEP AN EYE ON YOUR PROPERTY
To make sure that you don't miss Father Christmas, our Tycam surveillance cameras film the interior and the areas surrounding your home, day and night. They enable the detection and immediate notification of any attempted intrusion, in the form of alerts (Father Christmas had better watch out!). Thanks to the immediate visualisation on your smartphone or tablet, it is easy to remove any doubt, or act accordingly. And of course, the personalisation of detection zones can be adapted to suit the needs of each home, to ensure respect for everyone's privacy.
Our Smart Protection solutionsOur Smart Protection solutions
TIP #4: GET READY FOR THE NEW YEAR... AND THE INCREASED BILLS
On 1st January we wish everyone Happy New Year, this can often be followed by concern about electricity & gas bills... The start of the year is often accompanied by a hike in the prices of electricity and gas. However, smart solutions can help to keep your consumption, and your bills, under control. In order to reduce your expenditure without even thinking about it, smart home solutions should be considered, however, one of the first points of action remains to evaluate what you are consuming the most. There are numerous smart sensors available to precisely monitor the key electrical consumers within a home, and to identify the least energy-efficient appliances.
With the Tywatt 5450 and 5600 modular sensors, Delta Dore is reinventing the notion of consumption monitoring, with a simple to use, but no less accurate installation. Connected to your electric panel, the sensors relay all consumption information directly to a smartphone or tablet, via Tydom. Categorised by type of energy (electricity, gas, water, thermal units), and by use (heating, air conditioning, hot water, electrical sockets...) this consumption data can be accessed via an intuitive interface, to help you gain a better understanding.
TIP #5: TAKE ADVANTAGE OF THE SUN... AND OPTIMISE YOUR CONSUMPTION
Did you know that your roller shutters can also have an impact on your energy bill? Depending on how bright it is outside, their opening/closing will influence the interior temperature. Let the sun in during the day, and programme your shutters so that they close automatically at sunset, to keep in the heat from earlier in the day. The astronomic clock in Delta Dore's Tydom application enables the automatic programming of the positioning of your shutters!
FIND OUT MORE ABOUT THE TYMOOV ROLLER SHUTTER MOTOR
Don't have yours yet? Make a quick call - not to Father Christmas, but to our recommended installers!